Shock Mounts
Type PD Sizes P5D, P7D & P81/4D
Type PD - One of a range of rubber shock and vibration mountings available from the Ministry of Defence Ship's Department BR.3021 Shock Manual.
The optional VSU - Vertical Stop Unit (shown on the left with the red rubber shock washers) and resilient end restraint Rectangular Sandwich Mountings (shown on the right) are used to limit the shock displacements and the response to ship motion.
VSU Vertical Stop UnitTypical details of an application using Christie & Grey Marine Shock Mountings Rectangular Sandwich Mounts
Features

A PD mount's athwartship stiffness is about 0.95 times the vertical stiffness in its normal orientation.
The longitudinal stiffness is about 0.18 times the vertical stiffness.
The rubber in a PD mount is protected by a flexible sealing paint.
Metal parts are painted with low sheen black paint.
PD mounts are the straight rubber developments of the circular type L mountings.
The mounts will only achieve their full shock alleviation when they are functioning within their designed working ranges.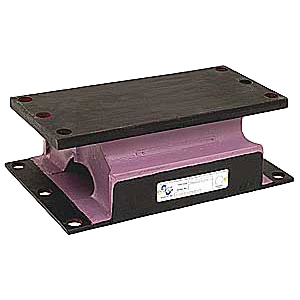 Typical Applications

Diesel Generator Sets.
Marine Propulsion Engines.
Marine Chiller Units