Case Studies
The Curzon Cinema, Oxford
Construction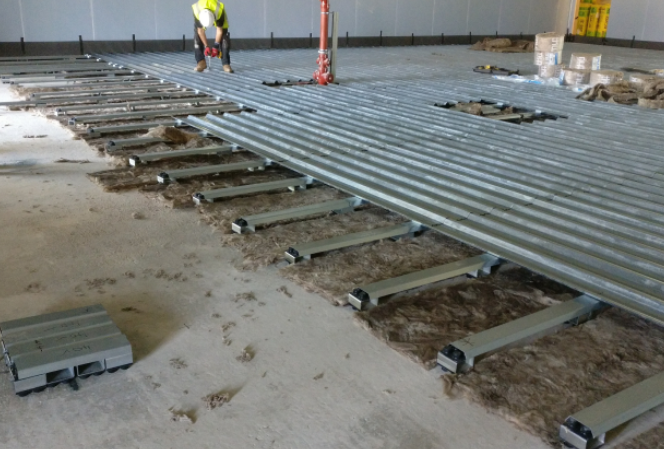 Challenge
The introduction of a five Curzon Cinema operated screens into the redeveloped Westgate Shopping Centre to provide new state-of-the-art cinemas from a chain which specialises in independent artistic films.  Representing only the fourth of its kind outside of London.  The introduction of which will bring the number of cinemas in Oxford to six.
Solution
Christie & Grey have proposed our Stud Rail System (SRS) floating floor to meet the specification of Holtz Acoustics for an Acoustic Floating Floor, to achieve a Natural Frequency of 9 Hz or less with a 100 mm air gap, under the dead load only.  In addition to providing Acoustic Wall Ties and Acoustic Ceiling Hangers to provide a true box-within-box solution.
Design
Using the load requirements set out by Paul Owen Associates for the cinemas which included the provision for a 150 mm of concrete slab and an additional dead load requirement for rake seating, plus 5 kN live load.
We calculated our system would provide a theoretical performance based upon a deflection of 7.4 mm under live load condition, producing a natural frequency of the Studflex Pads of 6.87 Hz.
When including the 100 mm air gap between the floating floor and structural slab. The related air stiffness increases the natural frequency of the system, Studflex Pads plus air gap plus 150 mm floating floor slab to 8.25 Hz.
Details
The Curzon Cinema employed the following build up of materials to provide a 100 mm air gap and 150 mm floated slab.
Box Section laminated steel and natural rubber elastomer pads type "Studflex".
Galvanised steel channel rails.
Galvanised steel profile permanent shuttering.
Peripheral resilient lining material.
Thermal/acoustic mineral wool void filler
In addition, Acoustic brickwork and internal partition wall ties are designed to provide structural stability whilst attenuating noise and vibration between cavity walls.
FInally, Studflex wall isolation pads in combination with Christie & Grey isolation washers, wall head rubber isolation strip were employed together with the acoustic wall ties to provide a complete wall isolation solution.
---