Case Studies
Holland and Holland Shooting Club
Construction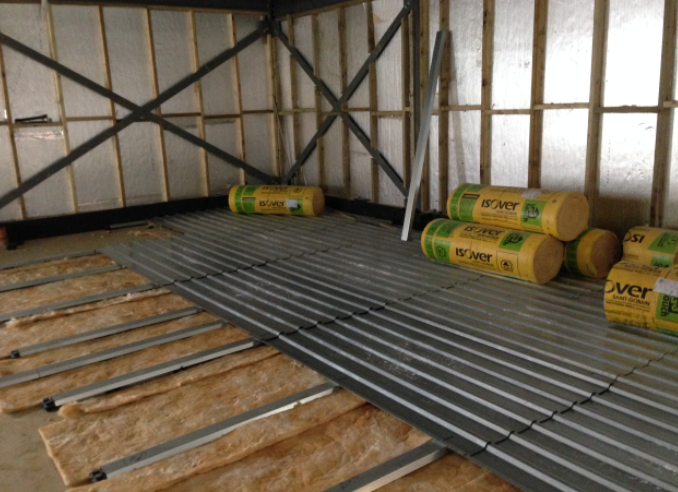 Challenge
The introduction of a building extension to the Ducks Hill shooting club provided the need to install a  Stud Rail System (SRS) floating floors to the kitchen, offices, WC and plantroom areas of the building to reduce the potential noise impact from the shooting range below.
Solution
Christie & Grey analysed each floating floor area individually as different loads requirements were applied depending upon the function of the space.  The Acoustic Floating Floors were designed to achieve a static deflection of 6 mm under dead load with an additional 2 mm for the live load applied.  Careful consideration was taken on those areas where there was static heavy furniture, walls and water tanks which required additional Studflex Pads to provide sufficient support.
Design
We calculated our system would provide a theoretical performance based upon a deflection of 8 mm under live load condition, producing a natural frequency of the Studflex Pads of 6.63 Hz for the lighter Kitchen/Office areas (100 mm floated slab) and 6.93 Hz for the heavier Plantroom area (150 mm floated slab).
When including the 50 mm air gap between the floating floor and structural slab. The related air stiffness increases the natural frequency of the system, Studflex Pads, air gap and 100 mm / 150 mm floating floor slab to 11.40 Hz and 10.51 respectively.
Details
Holland & Holland employed the following build up of materials to provide a 50 mm air gap and 100/150 mm floated slab dependant  upon area.
Natural rubber elastomer pads type "Studflex".
Galvanised steel channel rails.
Galvanised steel profile permanent shuttering.
Peripheral resilient lining material.
Thermal/acoustic mineral wool void filler
Due to the existing structural steel work and drains for the Kitchen and WC areas, there was a significant number of penetrations through the SRS floating floor.  Careful design and execution was crucial to avoid short circuit and maintain the integrity of the floor.
Christie & Grey provide detailed installation drawings to precisely position our Studflex pads to ensure an equal deflection throughout the SRS floating floor system.
---